Despite the Covid-19 distractions, our safaris are normally available in winter 2021-2022.
We are taking this current situation seriously and want to ensure your safety as a top priority on our safari programs. This means we are carefully following the latest guidelines and recommendations set by the Finnish authorities to keep everyone as safe as possible.
On our silent & emission-free eSled safaris, we always operate in small groups on our scenic private trails enabling social distancing. Moreover, we pay special attention to hygiene issues during the safari program.
Due to Covid-19 distractions, we will allow you to change your program dates or cancel your booking free of charge if the authorities forbid travel. This policy applies for all activities which are operated by Aurora eMotion and cancellation is caused by Covid-19 virus. Please contact us if you have any questions or concerns about our cancellation policies.
You can follow the latest information on the travelling precautions, restrictions and current situation regarding Covid-19 virus in Finnish Lapland and Finland provided by the local authorities from covid19safelapland.com.
We offer the first electric snowmobile safaris in the world
With electric snowmobile – eSled – you can experience the wildlife using all five senses and get closer to nature than ever before. With a respect to nature's uniqueness, our safaris are designed for small groups, max. 16 adults / 8 eSled.
We also produce customized private safaris to meet your needs.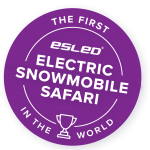 Cruise into the Arctic wild
eSled - Electric Snowmobile Safari
A truly unique experience
The eSled – electric snowmobile is an innovative new way to experience the Arctic splendor without disturbing the silent peace of wintry nature. We are the first and only company in the world offering electric snowmobile safaris, a sustainable way of experiencing and exploring the purity and silence of the Lappish nature.
Connect with nature
The electric motor of the eSled is silent, and the only little sound comes from the snowmobile skis and a spinning track while sliding on snow and ice. During the safaris you can enjoy the fresh and clean air of Lapland and perhaps even see a herd of reindeers making their way in the forest. Thanks to its precise electric drive, the eSled is easy to handle while enjoying your journey in the snowy landscape.
Exclusive
Our private and easy-to-access trails are well-maintained ensuring you a pleasant and safe safari ride. The beautiful landscape along trails includes versatile nature: lake scenery, rugged hillsides, old pine forests, and marshlands. During the breaks, there's also a chance to take pictures of these scenic views and share them with your friends. We will also have a stop in our private cabin to warm ourselves by the fire and enjoy local delicacies. To make your experience even more exclusive, our safari comprises of small group of one guide and 8 eSled. Children aged 4-14 can enjoy the ride in a sleigh towed by the safari guide's eSled.
In the case that you want to buy our safaris from sales point instead of on-line, please contact to following distributors:
City Centre:
Aurora Shop (Shopping Centre Rinteenkulma)

Beyond Arctic

Scandic Hotel Koskikatu

Visit Rovaniemi Tourist Information
Santa Claus Village:
Arctic Circle Tourist Info

Santa's Adventures Sales Point

Santa Claus Holiday Village

Nova Skyland Hotel
eSled Safari Venue: Rovaniemi
Location
The safaris start from Arctic SnowHotel & Glass Igloos' site in Sinettä, Rovaniemi, located a 20 minutes drive away from the center of Rovaniemi. You can get there by our transfer, always included in safari prices, taxi, or by your own car. Daily round trip transfers from the city area of Rovaniemi to safari venue are operated multiple times a day. Transfer timetable and exact pickup locations are available and can be selected in our online store. Please contact us via email or by phone, if you don't find a suitable transfer option.
In the case you are arriving by your own transfer, our meeting point is located at Arctic SnowHotel's main reception where our guide will meet you. We ask you to be there 10 minutes before the safari departure. From the reception, the guide will escort you to our Safari House, the starting point of the eSled safaris. Guide will give you an introduction to the eSled and safari, and you will also change to proper safari outfit.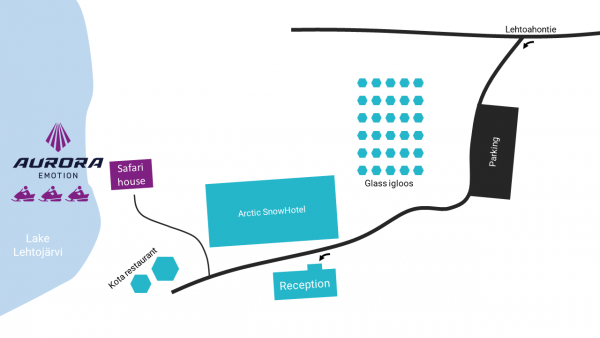 Arctic SnowHotel & Glass Igloos
Aurora eMotion eSled safaris can be combined with a visit or guided tour to the intriguing Arctic SnowHotel made of ice and snow. In addition you can book lunch or dinner in one of the fine choices: Kota Restaurant or Ice Restaurant. In Kota you can enjoy traditional Lappish delicacies, served around the open fire. The Ice Restaurant, built of snow and ice, provides a unique setting for an unforgettable dinner served at the ice table. More information available in our online booking below.
Note
Each person driving a snowmobile must be at least 18 years old and hold a valid driving license (B). Please remember to take your driving license with you.
Dress in layers.
The best way to prepare for eSled Safari is to dress in layers. If there's too little clothing, your hands and feet will cool down first and gradually the whole body. Again, if the clothing is too warm, the sweat can moisten the whole clothing and during the safari breaks the body cools too much. Functional winter clothing consists of a controllable layered clothing.
The purpose of the underwear is to keep the skin dry.
Moisture-transferring synthetic fiber materials include polyester and polypropylene. Wool is a warm and functional material. Silk is very moisturizing and pleasing to the skin. Two-layered knitwear is a well-functioning underwear, the inside layer is moisture-transferring material, and exterior thermally insulating, for example made of merino wool and silk blend. The purpose of the underwear is to regulate the thermal insulation of clothing, depending on weather, activity or work, and to keep the skin dry.
Outerwear provides protection against cold, wind and moisture.
Sufficiently loose clothing does not squeeze the layers below, thus reducing the amount of air in the clothing. Particularly important is the functionality of the zip fastening system for winter clothing, so that the needs can also be met in the nature. Head protection is important in the cold, as most of the heat released by humans exits from the head. In addition to cold, the head should be protected from wind and moisture. Knit cap is excellent choice for head protection, and for increased protection use a hood, ear pads, or scarf. The idea of layered dressing can be used to protect hands. Keeping thin gloves under mittens reduces the need of using bare hands. Mittens are more protective than gloves.
eSled Safari Clothing Recommendation:
Underwear

Moisture-absorbing and warming material such as wool (WO), silk (SE)
Two-layer materials with an inside moisture-transferring material such as polyester (PES) or polypropylene (PP), and exterior, for example, wool.

Intermediate clothing

Airy materials, such as fleece and wool, are most suitable for low temperatures.
Number of intermediate layers may vary from one to three layers.
Thermal insulating woollen socks.

Outer clothing

Cotton or down jacket and pants to keep the heat inside and protect against the wind.
Tall boots with felt insoles.
Aurora eMotion provides:
Helmet, balaclava and scarf
Outer clothing and mittens
Boots and woollen socks
Ready for a silent eSled Safari?
General terms
The driver of an eSled has to be at least 18 years of age. The driver is held liable for damages caused to the vehicle. The personal liability is 990 € / accident case. All prices include VAT.
Our story began almost ten years ago when travellers visiting here in Lapland started asking for quiet and emissions-free vehicle for their journeys in Arctic wilderness. As the roar of the engines overwhelmed our senses, we also said to ourselves there must be a more sustainable way to enjoy snowmobiling. There was not, not on a snowmobile at least, but then we got an incredible idea: "What if we could combine the tranquillity of snowshoeing with the efficiency and ease of snowmobiling?"
An idea that people would be able to enjoy and embrace nature's true silence and purity with a silent and eco-friendly snowmobile started to grow in our minds. Development of the electric snowmobile already got started at the Lapland University of Applied Sciences in 2010. The ambitious goal was to develop electric snowmobile that really works in Arctic circumstances here on the Arctic Circle, Finnish Lapland. As the result of process, the world's first eSled – electric snowmobile was born. Hence, we, engineers, who created the eSled, also decided to establish a company on basis of our work in 2017. Today our company, Aurora Powertrains as the manufacturer of eSled – electric snowmobiles, from Rovaniemi, Finland is a forerunner in its special market segment.
Not only we designed the eSled, we also decided to set out our own safari company, Aurora eMotion, to provide silent and emission free electric snowmobile safaris for everyone visiting Lapland. Now we are proud to be the world's first and only provider of eSled – electric snowmobile safaris, offering travellers a new sustainable and exciting winter activity. Electric snowmobiles are a huge step for people looking for sustainable and conscious holiday activities in Rovaniemi. There are 20 eSleds ready for your use in Rovaniemi. Nowadays, the electric snowmobile safaris are provided by Safartica Ltd and there are 20 eSleds available for your use in Rovaniemi, Levi and Ylläs.
The eSled is an innovative new way to experience the Arctic splendour without disturbing the silent peace of wintry nature. It's great for beginners as well due to its special electric drive, which makes handling easy and fun. Still, it is packed with a lot of power and performance, enabling the driver to enjoy the journey. Our safaris last usually from two to three hours and we will ride approximately 1-1.5 hours depending on skills of the drivers. After the ride, charging eSled's battery to full takes less than 1 hour.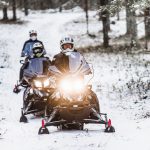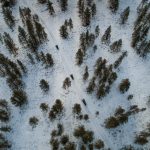 Responsibility as a Part of Our Operations
Providing and developing sustainable tourism products is a key part of our operations because we want to be pioneers for sustainable tourism in Lapland. We believe in the appeal of Lapland's arctic, pure nature and an authentic, local way of life. We want to make sure future generations can also enjoy these great experiences Lapland has to offer.
Protect Our Arctic Nature
Our electric snowmobiles do not use gasoline at all and we only use green energy coming from our special electric charging points.
We are doing continuous development work with electric snowmobiles and are also developing a network of electric charging points in Lapland area.
The energy we use is mostly coming from local hydroelectric power plants and from other renewable sources. We avoid using fossil fuel-based electricity generation in our process. The sustainable approach also outreaches our vehicles.
We operate only on marked private trails without harming the surrounding environment and animals.
During safaris, we do not any plastic bags, disposable plates or cutlery. We use washable Kupilka tableware which are made of 50% wood and 50% recycled plastic.
We recycle, compost and try to minimize all waste.
We also want to increase the environmental awareness for our guests.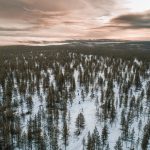 Local Welfare
The food and drinks you enjoy are local.
We use local, well-skilled professional labour force.
We provide only our guests real authentic experiences in nature respecting local the Lappish cultural heritage.
Our aim is to promote sustainable tourism in Lapland and we also take part in the development of responsible tourism with local and national stakeholders.
We co-operate closely with local, small entrepreneurs.
Our business is always under progress. Currently we are running "The Industrialization of electric snowmobile" – project, which is partly funded by EU.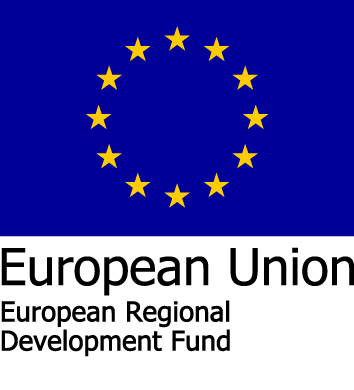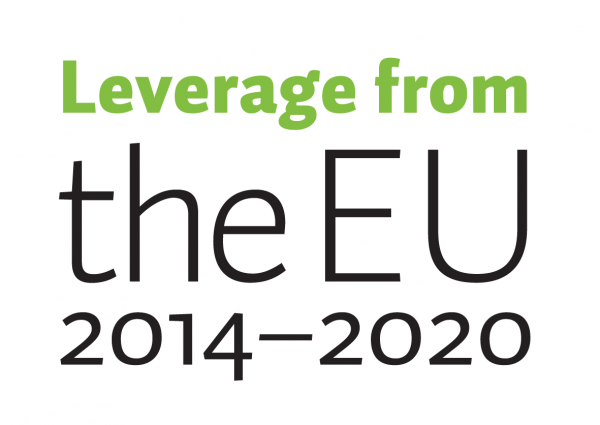 Info & Sales
Sales@auroraemotion.com
Tel. +358 40 139 3878